Smyth Irish Setters
Neil is from the family of Smyth Irish Setters. They live in Wisconsin, USA. Neil was born in his mother, Sylvia's, first litter. They are descended from the Wendover Kennels in Northampton, UK.

Roselle "Rose" Smyth owns Smyth Irish Setters. She loves to hunt and go out with her Irish Setter Dog Sled Team. With her husband and daughter, Rose and her family have been breeding dogs for generations and have currently over 40 dogs.

Smyth Irish Setters are field setters - from the hunting line of the breed. Neil's family members hunt for grouse and other game in Wisconsin.

The Smyth Irish Setter Dog Sled Team is well known in the community - they are proud of their famous red dog sled team! The team attracts a ton of attention in Mush Competitions as the red dogs streak across the frozen winterland. His grandfather, George, is a leader of the pack!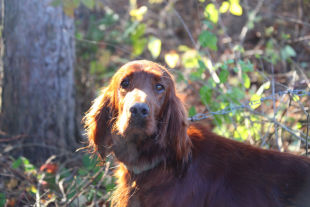 Suchisneil's mother, Sylvia

Neil looks much like his Granddad, George